LT03 forklift call system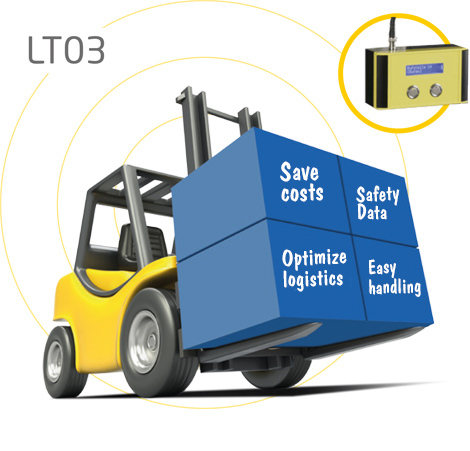 The forklift call system is durable and can be operated intuitively
The LTO3 call system hardware is impressive with its particularly durable design and its compliance with protection class IP65 (protected against access to hazardous parts with a wire. No ingress of dust. Protected against low-pressure water jets from any direction.)
The LT03 Kanban forklift call system is used to signal wirelessly to several mobile transport units (e.g. forklifts) that loads are ready for pick-up from the loading stations.
The system consists of at least one forklift call station each and a portable receiver and transmission unit which is mounted on the forklift. The solution speeds up the in-house flow of material considerably as it works faster and more efficiently than ordering forklifts by shouting or by the telephone.
With the LT03, the industrial trucks can be ordered quickly at the touch of a button to the respective call station where the goods have to be picked up. Each call is transmitted to all connected forklifts by means of an ultra-high frequency radio system, which is free of charge. For this purpose, the vehicles are equipped with a receiving and transmission unit which does not differ from the call stations in its form. The devices' die-cast aluminium housing have a liquid crystal display and are protected against the ingress of dust and water.
Would you like to:
… significantly speed up the frequency of your internal deliveries?
… reduce your storage needs?
… automate your material flow?
… avoid empty trips and unnecessary driving?
… optimise and organise your entire forklift fleet?
You can attain these objectives with LT03!
Without a great deal of planning or expenditure
The LT03 forklift call system at a glance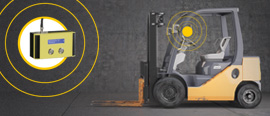 How it works
The system consists of call points (loading points) and receiving points (forklifts). When a load is ready for pick up, it can be signalled at the loading points.
More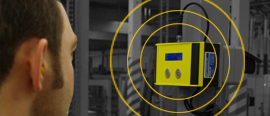 Forklift call point
The call point is operated by two control buttons. All relevant information is displayed on an LCD display.

More
The advantages of the Securifix systems:
Straightforward cost budget (fixed price guarantee)
Minimum planning and installation effort required
Easy to install and operate
Independent of forklift manufacturer
Durable construction suitable for industry
Complex monitoring and simple configuration
Customer-specific solutions – customised systems
RS 232 interface allows connectivity to merchandise management systems (WWS, ERP, SAP …)