LT03 forklift call point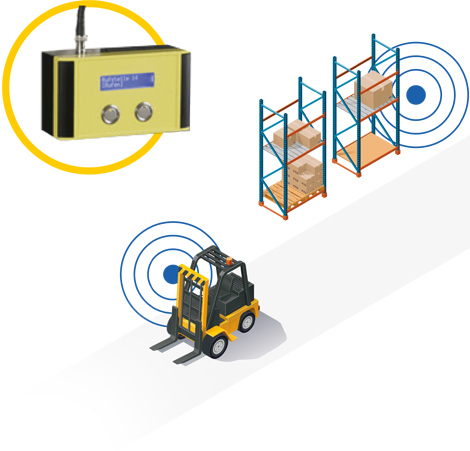 The call point is operated by two control switches – a call switch and a function switch. All relevant information is displayed on an LCD display. Each forklift call point has its own number for identification purposes. Each number can store a descriptive name like e.g. "Warehouse 1". Forklifts can be called using the left call button. The call transmission is displayed on the LCD display. If the call is accepted by a mobile unit, the unit number or name is indicated on the display. The call is then deleted on the other mobile units. Processed jobs are deleted from the forklift.
Additional features
In addition, individual call points can be programmed in such a way so that they do not reach every available forklift. This makes sense for instance when call points only require certain types of forklift truck. This may be related to load capacities or attachments that are specifically required.

Each call station in use acts like a relay station that transmits the "passing" signals to the nearest call point..